Tuesday, August 19th, 2014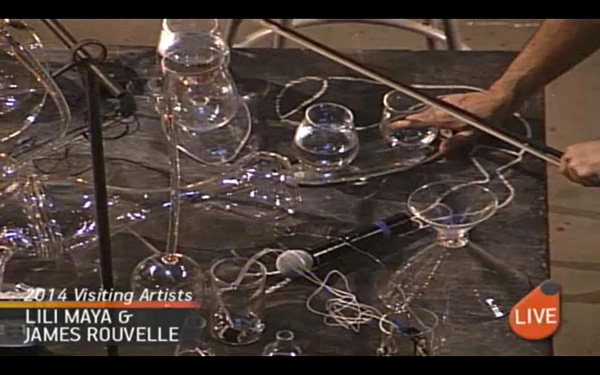 For our Museum of Glass residency our preparation included a material investigation of glass that resulted in an interest in its sonic and sculptural properties. We worked with combining fundamental glass forms (goblets and vessels) and electro-magnets (as a way of making sound), and making those forms resonate by striking and bowing them. A concept of hybridization, experimentation, improvisation and performance began to emerge.
We arrived at the museum with non-dimensional drawings based on the physiology of the inner ear that functioned as starting points for the development of sculptural and sound making objects that we developed and made with the hot shop team.
Informed by our research and recent developments in our collaborative practice we took the opportunity to engage the hot shop as studio space, installation space and performance space.
The results of our process included sculptural objects (two of which are now part of the museum's permanent collection), drawings, an installation and sound performance.
The sculptural forms we made also functioned as acoustic resonators in our sound performance.
for the flickr set click here.