maya + rouvelle: an ideal space on the frontier w/lili maya
27th August, 2015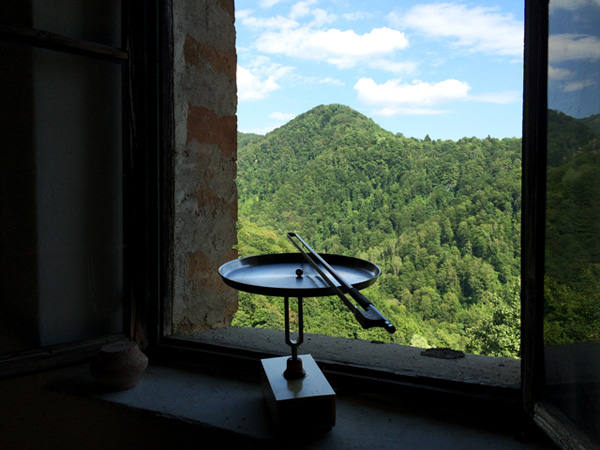 click here for the complete set on Flickr
An ideal space on the frontier is a topology of events and media realized for Stazione di Topolò in July 2015. The work includes an installation/performance with mezzo-soprano Carlotta Buiatti, a musical composition, handmade musical instruments, materials found on site, drawings and video.
Inspired by the location and its history on the Italian and Slovenian border, Stazione di Topolò was an ideal space for us to continue to explore with sound, light and movement the qualities of suspension that take place on the frontier; where the essential in-betweenness of all things is evoked, with its ever present shifting perspectives, dualities and parallels.
As an installation/performance, materials (including objects found on site and media we prepared beforehand) were installed and open to the public. Performances in the space by us and mezzo-soprano Carlotta Buiatti were also scheduled, during which we would play a sound work composed of pre-recorded and live sounds made with the materials in the space. The performance would cause the materials/composition of the installation to be rearranged and would remain until the subsequent performance.
Materials: objects found on site, hand-made paper assemblages, drawings, video projection, sound (a pre-composed soundtrack of digital and analog sources, live performance on hand-made acoustic instruments, vocals by Carlotta Buiatti, cassette recorders) and programmed LEDs.
This video was developed on site and includes footage captured in Topolò as well as unpublished material from earlier maya.rouvelle projects whose content foreshadowed this work. The visual echoes between the Topolò footage and the previous work footage form an isorhythm across time and space, another frontier. As a part of the installation/performance the video was projected onto drawings positioned over found objects.
The musical composition is a cross-synthesis of different musics from different times and media organized around the theme of the project.
This video presents the work in its installation form. The accompanying sound is an edited version of the audio track that was part of the work (link above).